News and Events
Latest News
Post Date: 13 November 2020
SLAR Facilitator Training begins next week.
Please sign up via your local education centre if you have not facilitated a SLAR before and would like training for this year or future years.
Further details below: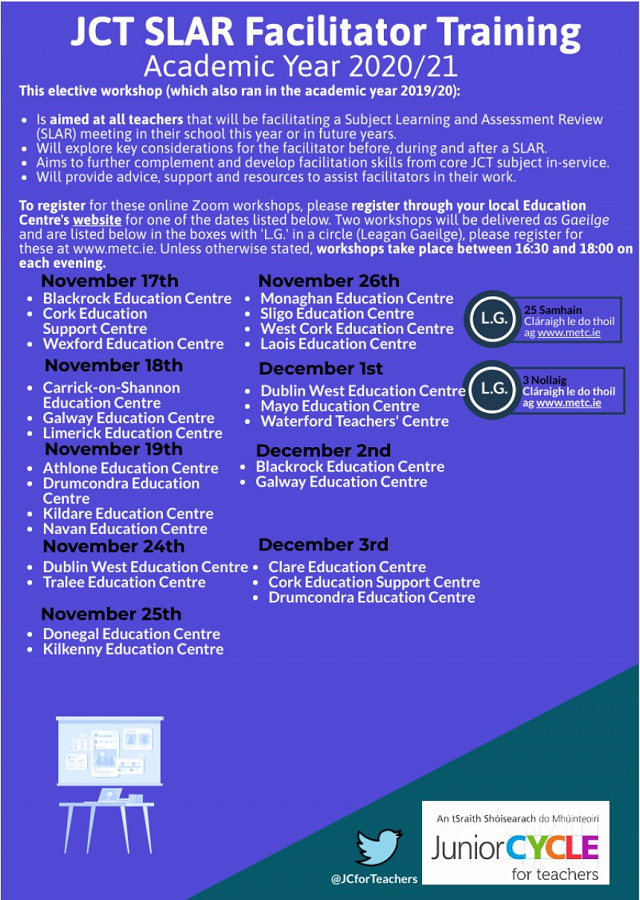 Post Date: 15 September 2020
Dates for completing Classroom-Based Assessments for second-years are now live. This applies to CBA1 for the 2020/21 school year.

See page 3 for further details: here
https://ncca.ie/en/resources/revised-arrangements-for-the-completion-of-classroom-based-assessments-for-the-cohort-of-students-2018-2021
Post Date: 28 January 2020
Dr. Ailís Travers, Jewish Studies team leader, attended the 'Holocaust Memorial Day' ceremony in the Mansion House, Dublin on the evening of Sunday, January 26th which also closely marks the 75th anniversary of the liberation of Auschwitz on January 27th, 1945. Organised by the Holocaust Education Trust Ireland, the President of Ireland Michael D. Higgins gave a captivating, yet cautionary speech noting the importance of our country's solidarity with the oppressed and the marginalised.
The Chair of Holocaust Education Trust Ireland, Eibhlin Byrne, spoke of the importance "to educate generations now living, and those to come, about the inhumanity which man can inflict on man when all that is decent and all that is good is lost.'' The holocaust memorial exemplifies the importance of education within our schools in fostering inclusivity among our students in a pluralist world.